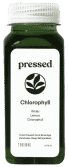 Chlorophyll Shot
With a light and subtle "green tea" taste, this 2oz hydration shot is recommended for anyone looking to add a boost to their h2o. Simply dilute into any amount of water for an instant hydration enhancer or take it as a straight shot.
INGREDIENTS:
Water, Lemon Juice, Sodium Copper Chlorophyllin (Color)
Vegan, Kosher, Gluten Free, Non-GMO Certified
Fresh & Delicious
Different Flavours For Your Delight!
Fresh

Organic