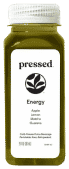 Energy Shot
Apple, Matcha, Guama and lemon are a perfect combination to start the day! With 200mg of caffeine, our Energy shot delivers more caffeine than a cup of normal brewed coffee.
INGREDIENTS:
Apple Juice, Lemon Juice, Matcha, Guarana Powder
Vegan, Kosher, Gluten Free, Non-GMO Certified
Fresh & Delicious
Different Flavours For Your Delight!
Fresh

Organic