At times, Weight loss can be a challenging task because of obesity for years therefore most of us don't even believe in the fact the one can lose weight and can maintain a healthy and foodie lifestyle at the same time. Different exercises can be a key to success in such cases but it depends on many other factors like the overall body mass index of the body along with age and other health-related physical issues.
Our body needs a sufficient amount of macronutrients and micronutrients. And if this certain amount is not up to the mark then all the weight loss exercises are in vain. Therefore we should look for different meal prep for weight loss.
These different recipes will help you to lose weight well as they will provide you with the required amount of nutrients. Nowadays it is quite easy to find such healthy recipes. There are many online platforms just like jetfuelmeals.com that can have perfect recipes for fitness freaks. So one doesn't need to do much effort to look for such effective efforts. Such make few clicks from your phones and you have them.
Here we have the list of few recipes that are best meal prep for weight loss:
Best Meal Prep For Weight Loss
1. Sweet Potato and baked salmon: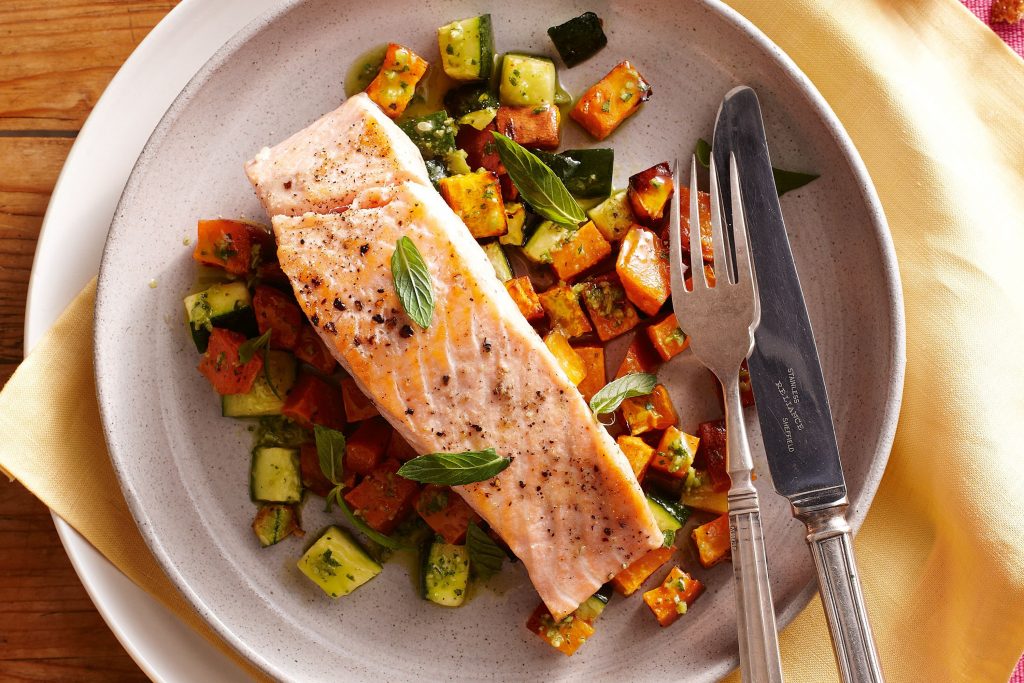 This is best Meal Prep For Weight Loss is almost part of every nutrition chart to cut down your weight. This meal is tasty as well as full of all the major biomolecules like proteins and carbs. You will feel your appetite be fully satisfied after having this meal.
Baked salmon fish will add something more to the taste as salmon is free from all kinds of fat components so it is very healthy and delicious at the same time.
2. Zucchini pesto chicken:
This can be one of the best meal prep for weight loss. In this meal, sweet pan chicken is used in addition to so many different tomatoes. Zucchini will provide the best taste to the meal and will be one of the main ingredients that will play its role to lower down your weight. You can try this meal plan.
This meal doesn't require much time to be cooked. By using this meal you start finding the weight loss results in less than a month.
3. Bean corn salad:
It is a wonderful weight loss meal that can be full of different colors and tastes. It is such a mood booster that you can just have a look at the colorful bowl of black beans and corn and this will give you a mouthwatering urge to taste the nutritious bowl. Other than black beans and corn this salad also includes cilantro lime, avocado with red peppers.
To add more to the taste of this delicious food one can add the topping of grilled fish on the salad and this completes your delicious meal.
4. Banana oatmeal:
Banana oatmeal is a traditional meal to have in breakfast and it can also be ready to eat a meal at any time of the day as well. Oatmeal can be occasionally boring but we can add some spice to the ice by bringing banana and some dry fruits in the oatmeal bowl.
Walnuts can be the best combination with bananas and you will find the best of the taste in the oatmeal bowl. Kids will love this recipe.
5. Butternut chicken squash:
One can have this tasty food in lunch and can become lunch envy among his/her colleagues for sure. It is one of the most amazing meals one can have in a lifetime.  Asparagus is also used in the dish as a taste enhancer and can be best for digesting the meal. This wonderful meal is best found online on jetfuelmeals.com and they also have the best delivery service. One of the Best Meal Prep For Weight Loss.
Asparagus and butter squash will together help you to cut down your weight. Therefore this meal should be part of your monthly meal chart. You will find a definite loss in weight with a couple of months.
6. Spicy mushroom wraps: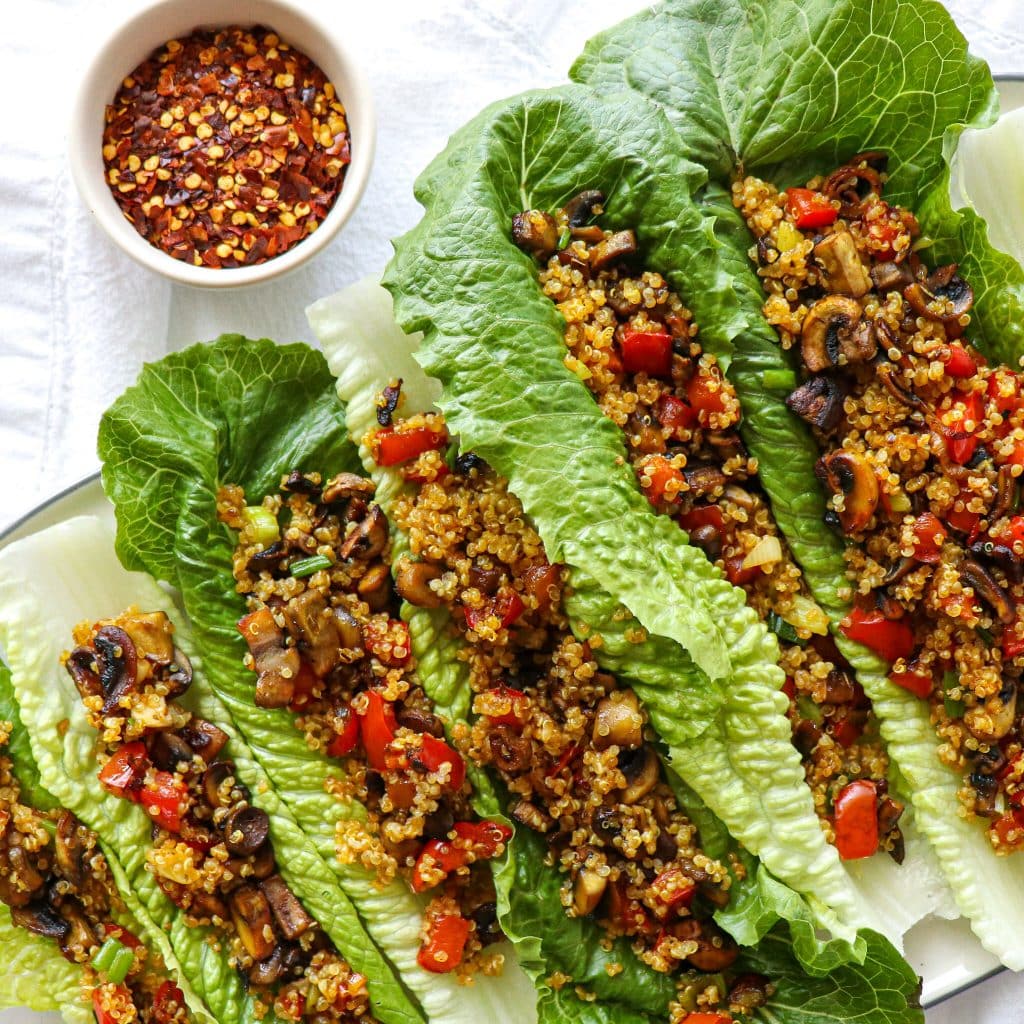 These wraps are prepared in butter lettuce that enhances the taste of mushrooms and also gives a delicious taste to the dish. Most of the times tofu is also added along with spicy mushrooms that make these wraps a complete nutritious meal. These wraps are best served at jetfuelmeals.com and you can order these tasty wraps anytime as they have the best delivery services as well.
This healthy vegan food requires minimum preparation so you can either order these wraps online or simply make them at home as it maximum requires 10 to 15 minutes to get ready.
7. Vegetable pork chops:
Everyone likes delicious pork chops and it will give you more delight if it will play its role in your weight loss. Best meal prep for weight loss is the one with the most attractive recipe and amazing taste.
The topping of vegetables in this meal adds more crispiness to the meal and nothing could be better than that. One should try to have this meal during their lunch or afternoon time and you will not regret them.
8. Shrimp Avocado salad:
There are most of the people around us who don't want to take chicken as part of their meal so here we present, avocado salad for them. Because if you are looking to lose weight then the avocado salad is the best option for you.
The salad is easy to make and easier to retain in the body. Continuous use of shrimp avocado salad in a month will surely help you to cut down your weight.
9. Burrito quinoa bowls:
It is one of the best meals for the ones who do not want any part of the chicken in their meal and they are most probably the original taco vegetable lovers. It is a healthy combination of black beans and quinoa and can make your lunch wonderfully amazing.
There are so many different marketplaces online that are serving this delicious meal but according to the reviews the best burrito quinoa bowls are available on jetfuelmeals.com. If you are somewhere around the Miami area then you should try burrito bowls from them.
10. Tofu jerk crispy bowl:
Believe me or not but the taste of this meal is much more exciting and interesting than its name. This bowl can be served with different sweet salads especially during lunchtime. To have this exciting bowl on the table, one needs to cook a firm piece of tofu in olive oil. This will be a real taste enhancer without any doubt.
Tofu jerk crispy bowl has all the crispiness that you need and it can be on your eating table for 25 to 30 minutes. So you can have a delicious lunch with all the sweetness and crisp without much wait.