Starting on a keto diet might be challenging, which is why we are offering you some tips and tricks to use so it can be easier.
A good way to start is to get familiar with labels and start checking grams of carbs, fiber, and fat. This way you can be sure how your favorite meals and food can fit into your daily diet.
If you want to save some time during the week, planning your meals, or getting a meal delivery can be beneficial. You can use some ideas from keto-friendly food to plan your custom meals. You are probably wondering what fits into a keto diet and what is not such a good choice. This text will give you information on what to eat on a keto diet and what to avoid.
How to start
The first thing you need to know about the keto diet is that includes fresh products, healthy fats, and proteins. Make sure to include keto-friendly vegetables and fruits in your meals. This diet plan requires you to eat about 60-80 percent of fat, 10-30 percent protein, and no more than 5-10 percent of carbs daily. The keto diet plan will put your body into ketosis. In this state, your body uses fat as fuel source, not carbohydrates.
Start fresh and try to remove, or give away the food that doesn`t agree with your new diet plan from your refrigerator or pantry. Focus on low-carb, high-fat foods, like eggs, meats, dairy, and low-carb vegetables, and of course sugar-free drinks. Be sure that you limit eating processed foods and trans fats.
Before you change your diet, talk to a professional to be sure that it is a safe option for you.
The best and easiest keto meal plan has a few amazing qualities:
Eating family-friendly and delicious recipes
Using clean and easy-to-find keto ingredients
You waste less food because you can use leftovers
Easy to use and adjust
Goes well with schedule changes
It is flexible
It helps you count macros easily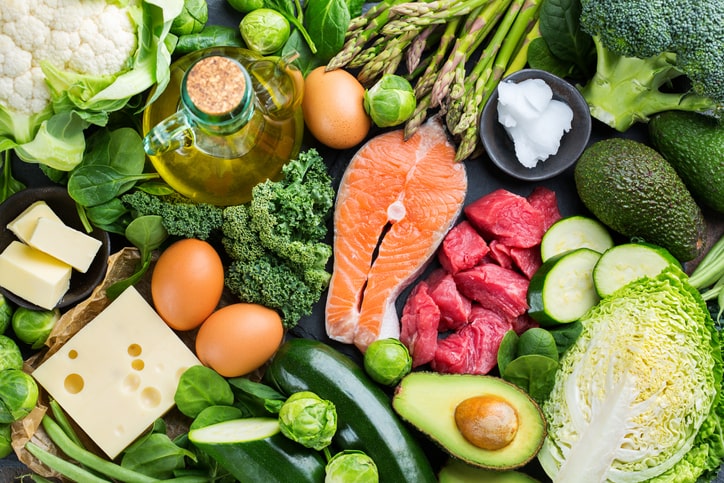 List of products that go well with your keto meal plan
Animal proteins
Eggs – eggs are a great and healthy source of protein. One large egg has less than a gram of carbs and six grams of protein, which is why they are ideal for keto.
Poultry and meat – Poultry and fresh meat do not contain carbs and they include important minerals and B vitamins, protein to help keep your muscle mass. If you can choose it is always better to eat grass-fed than grain-fed animal meat.
Fish – and shellfish are keto-friendly. Salmon, sardines, and other fish are almost carb-free and they are rich in omega-3 fats, vitamins B, selenium, and potassium. Shrimps and crabs have almost no carbs, but octopuses and oysters do.
Dairy and dairy options
Cheese – even though there are lots of types of cheese, most of them are high in fat and low in carbs, so they are a good fit for your keto diet. They also contain calcium and help reduce losing muscle mass and strength. Some cheeses like cottage cheese, Brie, cream cheese, feta, blue cheese, goat cheese, cheddar, Colby jack, mascarpone, parmesan, mozzarella, Havarti, pepper jack, swiss cheese, Limburger, string cheese are great for a keto diet because they don`t have a lot of carbs.
Plant-based milk – soy, coconut, and almond milk are keto-friendly. Make sure to use unsweetened versions because of the level of sugar in sweetened ones. Oat milk is something that you should avoid because unsweetened versions are still high in carbs and not keto-friendly.
Cottage cheese and greek yogurt – are high-protein and nutritious food. They do contain some carbs, but in moderation, you can eat them on keto. Eat them with, cinnamon, spices, or chopped nuts.
Half-and-half and cream – both are high in fat and low in carbs, and in moderation, a great choice for keto. You can add them to coffee or use small amounts of milk for cooking.
Berries
Unlike most fruits, berries are allowed to eat on keto. Strawberries and raspberries are low in carbs, but high in fiber. They are full of antioxidants. Blueberries and blackberries are lower in carbs than some fruit but they do not fit into strict keto.
Vegetables
Peppers – there are varieties of peppers that are keto-friendly. Small hot peppers are good to spice up recipes, jalapenos are great for appetizers. Mild peppers can be stuffed and full of flavors for low-carb dishes. They have vitamin C.
High-fat veggies – olives and avocados are unique and high in fat. They are not just low-carb veggies, they are also full of fiber.
Green vegetables – are very low-carb and excellent for keto. These vegetables are full of antioxidants, minerals, and vitamins. Spinach, collard greens, and kale are full of iron and vitamin K. Rosemary and oregano add flavor and have almost no carbs. You can also eat lettuce, arugula, escarole, baby spinach, mustard greens, cabbage, and bok choy. Herbs like mint, sage, dill, cilantro, parsley, basil, and lemongrass are also welcome.
Nonstarchy veggies – cauliflower, root veggies. Turnips make a good substitute for potatoes.
Squash – summer squash, zucchini, and yellow squash are low in carbs and popular on keto. They are very delicious in cold salads. Make zucchini noodles and they can change regular noodles or pasta in your diet.
Other vegetables that are keto-friendly are mushrooms, broccoli, cucumber, eggplant, radishes, green beans, tomatoes, celery, and brussels sprouts.
There are some that you should avoid. Corn, onions(in large amounts), potatoes, beets, butternut, and acorn squash.
Seeds and nuts – are high in fat and fiber, low in carbs, and healthy. The lowest in carbs and best for keto are pecans, walnuts, macadamia nuts, flaxseeds, almonds, and chia seeds.
Cocoa and dark chocolate
Cocoa and dark chocolate are sources of antioxidants and are very delicious. It might come as a surprise but you can eat chocolate in moderation on keto. It must have a minimum of seventy percent cocoa.
Oils and fats
Olive oil – provides benefits for your heart. It is full of antioxidants, and oleic acid, and has no carbs. It is a good base for salad dressings and mayonnaise. Use it for low-heat cooking or add it to already-cooked dishes. You can also use avocado and coconut oil.
Butter – it is a good fat to include in your keto. Ghee is also something that you can use because it is carb-free.
Beverages
Unsweetened tea and coffee – adding heavy cream to them are okay, but avoid tea lattes or light coffee are usually made with high-carb additives and nonfat milk.
Sparkling water is a good choice, of course unsweetened.
At first, it may seem restrictive, but the keto diet may help you lose weight, control blood sugar, and achieve other health goals.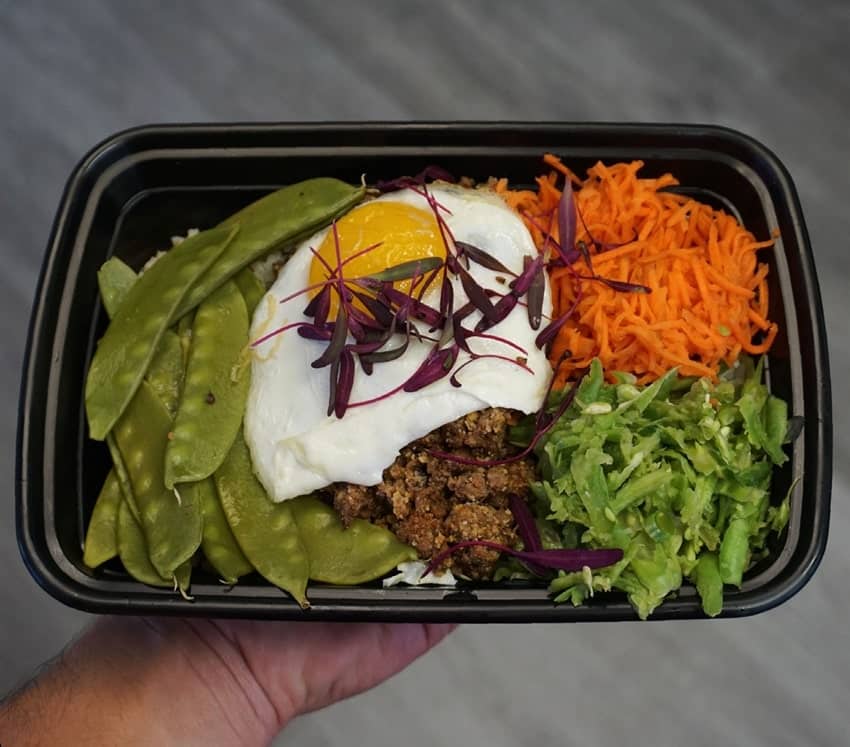 The first week of keto
Someone who is just starting a new diet plan, especially a low-carb diet, needs to keep things simple at first. That will make the transition easier. Leftovers can be pretty helpful if you don`t want to spend too much time making meals and cooking.
For breakfast, the good idea is to eat something quick and tasty hence the leftovers. You can start your diet on the weekend so you can make meals that will last for almost the whole week. This way you will not have to make breakfast before work.
For lunch, you should also keep it simple. Salads that you can make the night before are a good idea. You will have a grab-and-go meal. Saland can have a little bit of protein with green vegetables. You can add seasonings and spices of your liking.
For dinner, you can eat soups or casseroles with cooked vegetables, without side dishes. They are great on a low-carb, keto diet and you get leftovers there.
Making a shopping list at the begging of every week is also something that can be very helpful. This way you will get the groceries you need altogether, and it will be easier to stick to a meal plan. Be sure to include protein, dairy, spices, herbs, fats, and oils.
Summary
Having all the right information is half of the job done. Now you know what to eat on keto so following the diet should be a piece of cake (sorry, no cake on keto). If there is anything that you are unsure about, let us know, and we will find a way to remove all your concerns.
Get ready, go shopping for your keto groceries, and be persistent and the results will follow.