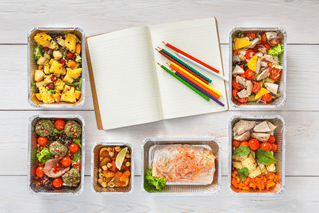 Meal Delivery in Miami : The Perks
Meal delivery has stopped being an up and coming trend, now it's well and truly here as part of the culinary landscape of the world! This enormous part of food trends worldwide is now here and established, allowing you to have a truly efficient meal plan delivery in Miami.
There are so many perks to taking part in meal plan services, and we're here to run you through our top three: it saves time, it's convenient, and it's healthy!
Having a really efficient and affordable meal delivery service in Miami is sure to give you and your family a lot of time with the food in your house.
Imagine the following situation for us, and you'll start to see what we mean.
Let's say that you get home from work at half-past five. It's been a long day, and the last thing you want to do is try to throw together everything in your kitchen to make a tasty, healthy meal. All you want to do, really, is sit down and eat. Realizing that you can't do that, you trudge to the kitchen and start to open a can of chopped tomatoes to make your basic, plain pasta bake for the third time that week.
Thank goodness those days are over!
Now, you can join in with our miraculous meal plan delivery service and have a whole host of fresh, delicious meals in your fridge. All you need to do with them from that point is heat them through, and you'll have a wonderful meal in no time.
Rather than spending hours slaving away over a hot stove, and then even more time slaving away over dirty dishes, you can easily and quickly get from walking through the door to sitting down with a meal. Think about all the other things that you can do with that time: read a book, watch the latest episode of the show you're binging, and even more!
By having a meal plan delivered to your house, you're saving yourself a life-changing amount of time.
As well as the time that you're giving yourself, you're also inviting convenience in to stay with you.
When I was a kid, my Dad used to go to work, and my Mum was a housewife. When I was younger, I didn't really know what that meant, but now that I'm an adult in my own home, I do: she spent hours thinking about what to cook and how to cook it.
I know for a fact that she had a few recipes that she used to enjoy cooking, and they were all held together in a little folder that she secreted away in the kitchen (I still don't know where that folder was hidden). Every week before she went to the supermarket, she would pull out half a dozen of the recipes from that folder to pick what she'd cook that week. Then, painstakingly, she would copy down the ingredients that she needed to buy, as well as going through the house to find anything else that she might need to pick up.
Then came the shopping, and driving it all home, and the unpacking, and then the storing and sorting which recipe to do on what day so that none of the ingredients went bad.
Goodness me, that's inconvenient.
Luckily, we're living in the 21st century, and we've got a solution to make all of the food in your house a million times more convenient than the way things used to be. You can simply scan through our website to check out which meal plans you like the look of, and then buy them. Before you know it, they'll be in your fridge, delivered in no time at all, ready for you to eat!
Rather than subjecting yourself to the nightmare of spending hours and hours poring over recipe books to find the right meal plan for you, do the smart thing and take a look at our meal plans.
As well as those two enormous bonuses, we can assure you that our meal plans are as healthy as they can be. We've done all the number-crunching for you, and so we're more than confident to tell you just what's in every single meal, as well as how we've cooked it and what it tastes like.
A Variety of Meal Plans Delivered
As well as that confidence in the quality of the food, we've also made sure to offer a number of meal plans for alternative diets. For example, are you trying to lose weight? Well, instead of reading recipe after recipe in diet books and magazines, we've done all the leg work for you. Take a look at our Ketogenic meal plan to find out just what our weight-loss meals look like. We guarantee they'll be tastier than some of the recipes in those worryingly thick dieting recipe books.
How about if you're on the other end of the scale, and you're trying to gain weight? For example, you could be the type of person who loves to spend time at the gym and need a good amount of food to fuel that active lifestyle. Well, our Athletic meal plan specializes in producing bigger portions for hungrier bellies. On average, that meal plan offers six hundred and fifty calories per meal, which is more than enough to allow you to sculpt your body just how you'd like to.
Keeping your food healthy is one of the greatest challenges in our world where convenience is king. Thankfully, we've taken the hard work out of that for you, and we can deliver healthy, delicious meals to your door quickly, affordably, and easily.
We're passionate about providing a healthy meal plan delivery service in Miami, and we'd love to help you out however we can. We currently have different meal plans to offer suitable to feed people with any diet. Check out the meal plans that we have on offer, and if you have any questions, feel free to get in touch!
Click here for more information on our meal plan delivery in Miami :