Pescatarian meal plan is a choice of food in which people eat vegetables and seafood and avoid eating red meat, poultry, lamb, and pork. There are several reasons to choose this kind of plan, most highlighted reasons include Health Benefits that cannot be ignored at any cost. This choice of meal is a benefit for health and it is proven in several types of research, people who are on a pescatarian diet are less prone to diabetes, weight gain issues, and heart diseases.
People change their way of eating to protect the environment. According to United Nations, raising livestock contributes to 15% of carbon emissions. However, the production of seafood and fishes produces fewer carbon emissions. These include some ethical reasons as well. People often oppose slaughtering, inhumane factory practices, and poor labor conditions in factory farms. Religions like Hinduism and Buddhism also negate the idea of eating meat.
By following these principles people side themselves from eating meat. Our body required a certain amount of proteins, carbohydrates, and vitamins so it is essential to design a meal plan to fulfill the energy requirement of our body. Certain services design a meal plan for a pescatarian diet.
Here we have the list of 10 best pescatarian meal plan services:
Best Pescatarian Meal Plan Services
1. JetFuelMeal Pescatarian Meal Plan:
JetfuelMeals pescatarian meal plan is one of the healthiest meal plans one can ever have. For individuals who don't want to gain weight and still want to have the delicious taste then a jet fuel pescatarian meal plan is for you. This meal plan does not have any fat content in it. It includes a fish diet. Delicacies of this meal plan cannot be compared with other dishes because of its unique and excitingly different taste.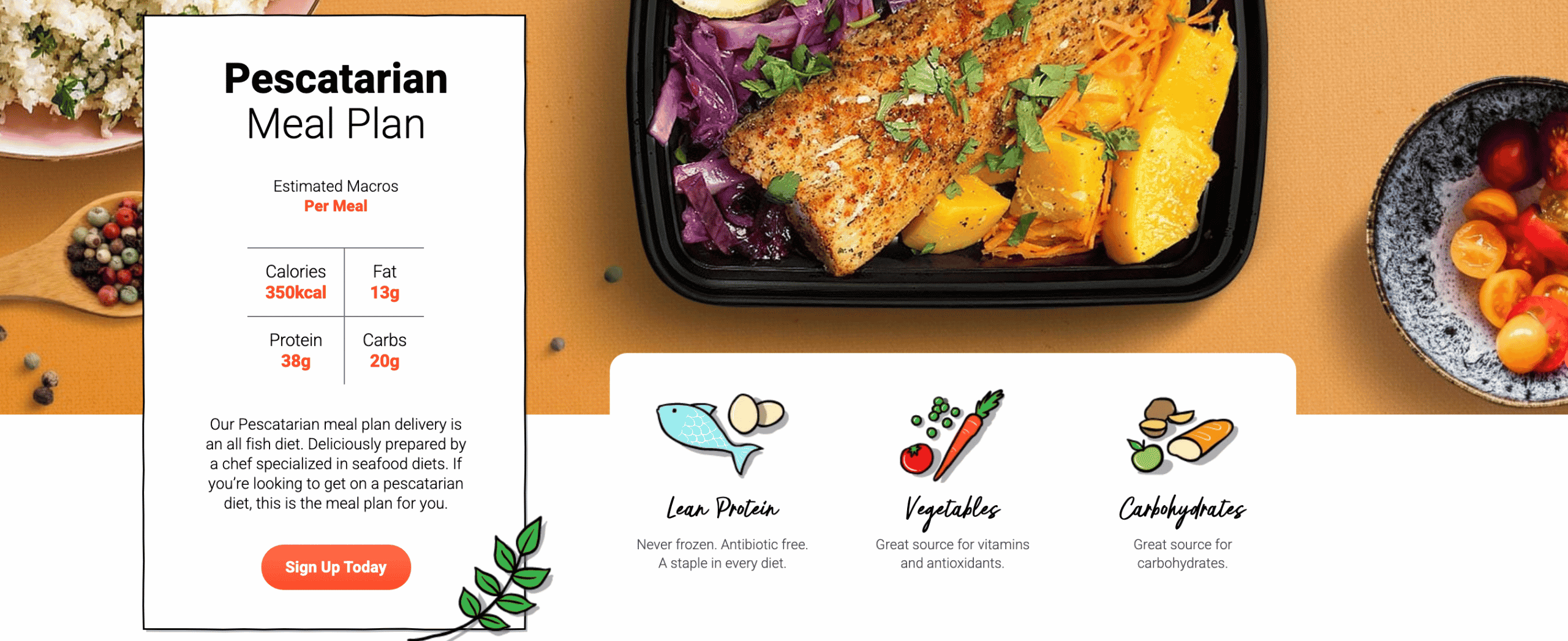 2. Sun Basket Pescatarian Meal plan:
Sun Basket comes with delivery services in the States. It is well known for its healthy, all-organic, and wild-caught seafood meal kits. Their menu is amazingly diverse from vegan and vegetarian meals to pescatarian, low carb, or gluten-free meals. There best options include Red Curry Salmon with Basil and Kaffir Lime, Malaysian stir-fried hawker noodles with shrimp, and Sweet potato taquitos with black bean salad.
3. Home chef Pescatarian meals:
The slogan of Home Chef is to connect people over evening dining. They are doing this by offering delicious full meals, with fresh, and quality ingredients. Their meal hardly took 15-20 minutes to get ready to serve. They have versatile options including Roasted Red Pepper Cream Rigatoni with kale and cannellini beans, Shrimp Campanelle Primavera, and Salmon and Brown Butter Hollandaise.
4. Dinnerly Pescatarian Meal Plan:
Dinnerly provides the cheapest pescatarian meal in America. They do this by using a limited amount of ingredients, simple recipes and by avoiding fancy marketing campaigns. They offer 22 meals weekly and with 8 pescatarian choices. The example of their delicious menu includes Shrimp Scampi Pan Roasted with Cheesy Garlic Bread, Spring Pumpkin and Pea Risotto with Cheesy Seed Crunch and Reduced- Carb Salmon Salad with Asian slaw and Avocado.
5. Martha and Marley Spoon: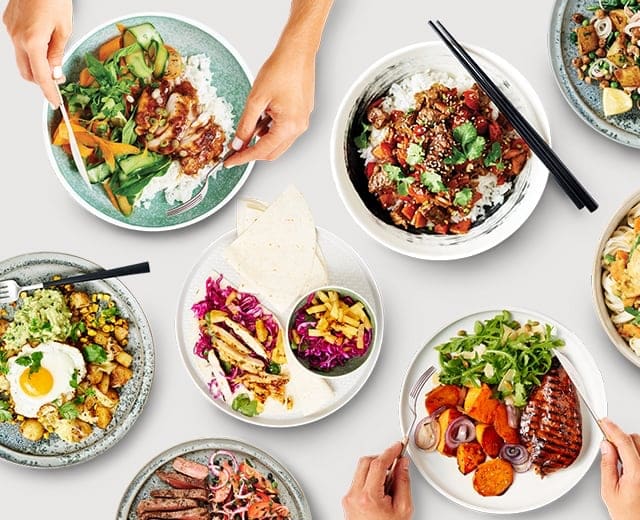 Martha and Marley Spoon provide home dishes in a classical way that are designed by none other than Martha and Marley. They also offer 8 pescatarian dishes out of the large 22 meals weekly menu. Some choices from Martha and Marley spoon include Salmon Provencal with Tomatoes, Zucchini, and Olives, Thai Fish Curry with Snow Peas and Steamed Rice and Kung Pao Shrimp Stir Fry with Rice Noodles.
6. Hello Fresh Pescatarian Meals:
HelloFresh is a renowned company that comes with a combo of taste and healthy food along with an extensive menu. They work with trusted suppliers and a team of professional chefs and nutritionists. They provide 20 different dishes and 6 meal choices that are ideal for a pescatarian diet. Few exciting combinations from this meal plan include Salmon Limone with couscous and Italian Herbs, Bruschetta Zucchini Boats, and Tilapia with Almond-Parsley Gremolata. The latter one is one of the famous ones in town.
7. Kooshi Gourmet Pescatarian Meal Service:
Kooshi Gourmet provides a well-divided portioned pescatarian meal per day. They focus on heart health, freshness, and flavor. Their delivery time is 24 hours and the food is rich in iron and omega3 fatty acids. They also diverse range of subscription packages and plans for maintaining 1200 calories per day.
8. Eating well Pescatarian Meal Plan:
Eating well provides a comprehensive plan for pescatarian meals. They guide in an easy way to follow the pescatarian diet. The best thing about this site is that they provide detailed instructions regarding ingredients and calories that are carried by every meal. They also guide regarding 3 times food and how it can be prepared at home.
9. Catered Fit Pescatarian Meals:
The slogan of Catered Fit "We do all the work in the kitchen, so you don't have to" They are offering easy to use member portal to provide a simple and customized pescatarian meal and also offer friendly delivery plans.
10. Zone Healthy Pescatarian Meal Plan:
Zone Healthy is the best option for pescatarian meals, the meals they offer are according to seasonal changes. They work closely with organic local farmers to ensure the freshest and best products to their customers. They also take care of nutritional needs to keep one healthy and willing goals. Their plan includes a 4-week rotation and customized plan for every individual by keeping the consideration of food Allergies and personal dislikes.
The above-mentioned pescatarian Meal Planning Services are well researched and have a good reputation in the world of pescatarian food providers. People who want to follow the pescatarian diet are advised to visit these places or at least visit the websites of these above-mentioned pescatarian diet planners and customize their food according to the advice of food experts and nutritionists. To have the best services regarding pescatarian meal plans you just need to visit jetfuelmeals.com as they have the best rating and trust of their customers.