If you are looking for a keto-diet plan, have in mind that the keto diet limits carbohydrate intake. The recommendation is to take less than 50 grams of net carbs per day. This diet plan can be a good idea because it increases fat burning, healthy weight loss, and better metabolic health.
When you wish to follow a ketogenic diet, it might be challenging to develop new and inventive meal ideas. When doing so, there are a few things you must keep in mind, and you can use some simple but delectable recipes as guides.
Fresh start
The best way to prepare is to make sure your kitchen is diet friendly before starting your diet plan. This can increase your chances of success. Kitchen clean-out is important because you are starting a new diet, so, you need new food, too!
Your chances of success will be better only by removing as much temptation as possible. If you toss (or give away) all sweet and high-carb foods from your fridge, pantry, or freezer. The more you remove, the better. Need more ideas on what to remove? Here are some products:
Fridge: Beer, fruit, juice, jam, ketchup, margarine, peanut butter, soft drinks, sports drinks, syrups, all low-fat, fat-free, light or lite products…
Pantry: Beans, bread, cake, candy, cereal, chips, chocolate, cookies, flour, honey, popcorn, potatoes, snacks, sugar in all forms…
Freezer: Frozen dinners, frozen pizza, all kinds of frozen potatoes, waffles, frozen yogurt, popsicles, and other frozen treats…
Preparing lunch has never been easier
The hardest part about changing your lifestyle and starting a new diet can be what to eat when you're not at home, like at lunchtime. Trying to figure out the way that takeout restaurant menus can work can be a problem. Low-carb options are few and far between, and you risk getting knocked out of ketogenesis or eating something dull and uninspiring.
It can take a bit more preparation, but the reward of making and bringing your lunch is worth it. Even if you work from home, knowing you've got a delicious lunch waiting for you can make the difference between a productive morning and not. There is a list of keto-friendly lunches that will inspire you to make your low-carb lunch in no time.
For most portability, bring a pile of lettuce leaves and something to wrap in them, like a cheesesteak or tuna salad. Right at your workstation, you can put together as few or as many as you wish.
If you're more the everything-in-a-bowl-type, there are ideas for you too, like deconstructed egg roll bowls or keto chili. Sushi's a no-go for low-carb because of the rice, but you can get creative, and make sushi rolls out of bacon and zucchini. The options for fillings are endless, and you can go with your faves or whatever you've got left over in the fridge.
You`ve had a tough week at work? There is comfort food for you, like our cauliflower "mac" & cheese. Whatever you decide to make, be sure to bring your lunch in something cute and functional.
Yes, lunchboxes are for kids, but we're adult enough to admit that we like them, too. So, find an interesting lunchbox and you will be excited to pack your lunch every day.
10 easy ideas for your keto lunch
Make your lunchbox colorful, mix ingredients, and put food that you like and that makes you happy. These are some ideas that you can use, but, feel free to get creative:
Hard-Boiled Egg Snack Plate – Everyone loves hard-boiled eggs. Prepare ahead by boiling a big batch over the weekend, then peel and pack on weekdays with lots of salt and pepper. Add 1/2 avocado, French onion dip, cucumber slices, and string cheese.
Turkey-cheddar roll-ups – Thinly-sliced turkey stands in for the tortilla or super-simple cheese wraps. Add 1/2 avocado, blueberries, cucumber slices, and almonds. (Switch up the cheese throughout the week — use cheddar, provolone, dill Havarti, or any other that you prefer…)
Ranch Chicken Bites – Toss juicy chicken bites with your favorite ranch dressing for a winning lunch that will keep you full. Add roasted broccoli, Babybel cheese, and cherry tomatoes.
Zoodles and Meatballs – Make an easy, diet-friendly version of spaghetti and meatballs by putting in zoodles and taking pre-cooked meatballs. Add Zoodles with lemon juice and olive oil, roasted almonds, cubed cheddar cheese, and Babybel cheese.
Chicken Sausage – Pre-cooked chicken sausage is a fast and easy choice for a keto-approved lunch. It comes in a huge variety of flavors so try new types throughout the week. Add Guacamole, French onion dip, almonds, and radishes.
Pepperoni Picnic Box – Grazing is one of the easiest ways to eat keto. Pack up some meats, veggies, and cheese, and pretend you're dining outdoors. There are not a lot of things better than eating French onion dip at lunchtime, right? Add Pepperoni slices, French onion dip, 1/2 avocado, celery sticks, and cubed cheddar cheese.
Smoked Salmon and Cream Cheese Roll-Ups – Spread cream cheese onto thin slices of smoked salmon to create roll-ups. They are so good, you will want to pack them again and again. Add Zoodles with lemon juice and olive oil, cherry tomatoes, cucumber slices, and almonds.
Bacon Chips and Dip – Crunchy, salty bacon chips are the lunch necessities you didn't know you needed. Cut a few slices of bacon into pieces, bake until crisp, and then dip into guacamole. Add 2 hard-boiled eggs, almonds, and string cheese.
Tuna Salad Lettuce Wraps – Scoop tuna salad onto sturdy lettuce leaves for a creamy, crunchy main. Add Salty snacks, some pickles, cubed cheddar cheese, and almonds.
Hot Smoked Salmon – If you haven't already gotten to know hot smoked salmon, here's your chance: It's smoky, not too salty, and flakes easily into nice big chunks. Add Guacamole, blueberries, roasted broccoli, and almonds.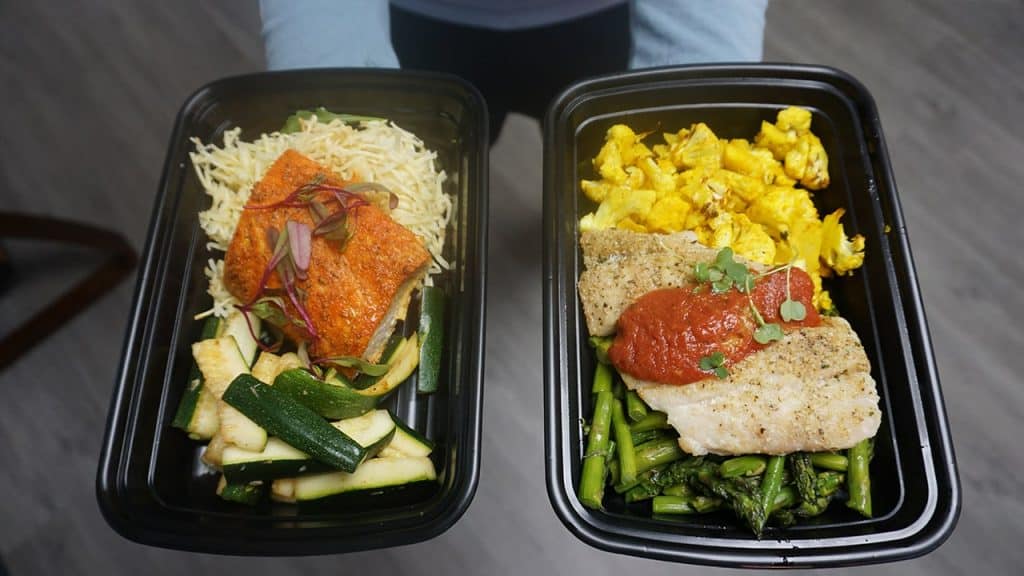 Recommended beverages while using this diet plan
Lunch always tastes better when we have a refreshing drink with it. Even better, when we can choose something to drink that goes well with our keto meal plan. The reason that we have to be careful is that sugar can be found in a lot of different beverages like juice, soda, iced tea, and coffee drinks.
The ketogenic diet requires the limitation or avoiding high-carb drinks, the same as high-carb foods. The greatest method to stick to your diet plan is with cold-pressed juices and organic shots.
There are many tasty yet sugar-free options for those on the keto diet. Some of the keto-friendly beverage choices are
Water. Water is always the best choice for hydration and should be consumed throughout the whole day. If you want to add extra flavor to your water, try adding some fresh mind or lemon peel.
Sparkling water. Sparkling water makes an excellent soda replacement.
Sugar-free coffee. You can use heavy cream to add flavor to your favorite cup of coffee.
Unsweetened tea. Especially green tea is delicious and may provide many health benefits.
Alcohol should be restricted, but enjoying an occasional low-carb drink such as vodka or tequila with soda water is acceptable on the keto diet.
Conclusion
Even if it seems that it is not always easy, be persistent and the results will follow. Get creative, choose the ingredients and products that can keep you healthy and that go well with your needs. We are here to help you make custom meals of your preference so you can have great lunch every day.